Student Journalist Steph Colderick is one of our newest writers. She is always looking out for stories that celebrate imagination, creativity and community. In her latest piece for Transition Liverpool, she meets some of the artists behind #portraitsofNHSheroes.
During this pandemic there have been many expressions of support for our NHS, from clapping and banging pots and pans, to sponsored runs and walks. One of the most beautiful we have come across is #portraitsofNHSheroes. 
Organised by painter Tom Croft, portrait artists can sign up to paint or draw a portrait of a NHS Hero. We spoke to David Leeming and Rachel Parker, who have both painted NHS Heroes from Merseyside.
Both artists wanted to get involved to show their thanks, Ms Parker explained: "You feel a little bit helpless at home. You watch the news and you see all the NHS workers selflessly dedicating themselves to trying to save lives and I just wanted to do something." Mr Leeming has painted Rebecca Fraser, a diagnostic radiographer at Aintree University Hospital, and Ms Parker painted Laura, a GP in St Helens.
Mr Leeming particularly wanted to paint Rebecca as she has selflessly put her wedding on hold, in order to work through the pandemic: "When I read that, I thought I have got to do a portrait because that is quite a thing to do, to put your wedding on hold."
Due to lockdown restrictions, both artists had to paint the portrait from photographs, instead of being able to meet the person. Ms Parker was able to build up a connection with Laura through emails: "Something you like to do as an artist is to try and portray a little bit of them. If you're just working from a photograph it is hard to do that, which is why I enjoyed the email correspondence."
Artists across the country have come together to paint NHS Heroes and Ms Parker reflected on how a community was built: "You feel you are part of a community from the point of artists all joining together, feeling like you're doing something to say thank you to the NHS."
By thanking the NHS in such a personal way, artists are able to demonstrate the amazing work NHS staff do day in, day out. Mr Leeming said: "They stepped up to the plate and they always have stepped up to the plate." This personal of message of thanks only further highlights how communities have come together, during this time.
After hearing about this work, Net Gallery contacted Tom Croft and offered to produce a virtual online exhibition of 15 NHS Heroes Portraits, which you can view here.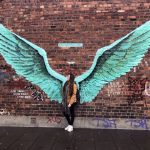 Steph is a student journalist at LJMU. She loves community stories and reporting on the great work happening across our city. You can follow her on twitter here.