Over the first few days of the lockdown, a small group of volunteers in our south Liverpool street went round one evening posting an invitation into each door in our street to join a street WhatsApp group. There was a positive response and since then neighbours who have never spoken before have started to enjoy offering and receiving support from each other. People check when going to the shops whether anyone needs anything. As well as cheering NHS workers each Thursday, one person in the road has organised a rota to send in cakes to show our support for NHS staff working under difficult circumstances. Teachers have offered ideas for parents to entertain their children and identified local fruit and veg delivery services to name but a few things.
People have started to say if they have a surplus of something. I think it may have started with toilet rolls! When I dug up the last of my beetroot and was overwhelmed with far more than I could manage I was surprised to find there were so many takers for beetroot to cook as well as my beetroot chutney. The lovely people in my road are so creative and posted some mouth-watering pictures of the food they had made with them. I found it really uplifting!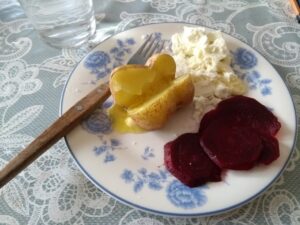 Our street is not alone in working more closely together since lockdown. Share your story by posting it on to this site.